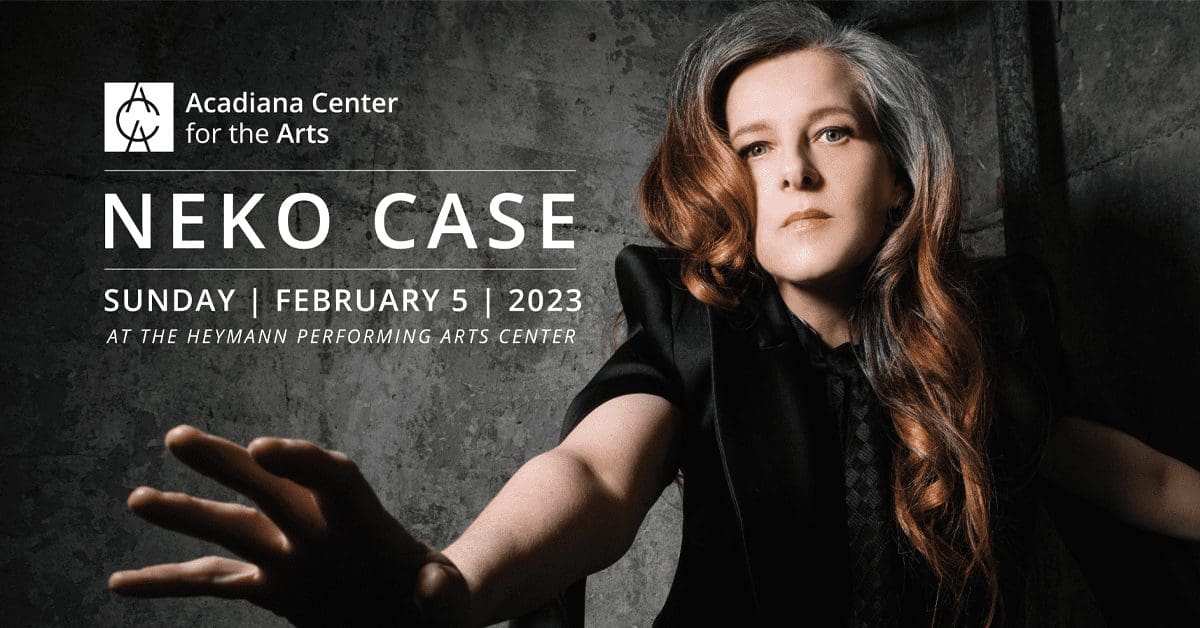 Neko Case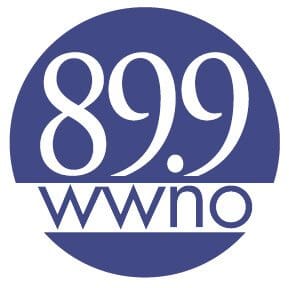 Let's give Neko Case a warm Lafayette welcome with a packed house! We're running a super special deal on tickets this week. 
Now through Saturday, buy one ticket at full price and get one FREE! 
$1 from every ticket will go to Peer Solutions and support their positive youth leadership and development program designed to prevent harm before it begins and engage lifetime ambassadors of positive change (www.peersolutions.org)
Neko Case steps out, cutting the sky and singing the stars, spinning fury and mercy as she goes. She loves the world and wears her heart on her sleeve, but she might eat it before you get to thinking it belongs to you.
Wild Creatures pulls together some high points of feral joy from twenty-one years of solo work by Neko Case. The Virginian marked Neko's debut as a solo artist in 1997. She delved into darkness in 2000 with Furnace Room Lullaby, scrawled Blacklisted in 2004 and recorded The Tigers Have Spoken live the same year. In 2006, she dreamed Fox Confessor Brings the Flood, and in 2009 unleashed Middle Cyclone. She plumbed her own life in 2013 for The Worse Things Get, the Harder I Fight, the Harder I Fight, the More I Love You, and raised hell in 2018 with Hell-On. Now in her third decade of recording under her own name, she's just getting started.
Is there another songwriter so fearless and inventive? Bending decades of pop music into new shapes, she wields her voice like a kiss and her metaphors like a baseball bat. She has cast the fishing net of her career wide—from Seattle and Vancouver to Chicago and Stockholm, setting up her home base on a farm in New England.
Gathering power year after year, Neko sings with the fierce abandon of a newborn infant crying in a basket in the woods.
Since escaping the labels of country and Americana, the gorgeous train-whistle vocals of her early career sit submerged in her later style, where their ghost can appear any minute. When her voice jumps an octave, it's almost visible, like sparks at night. "I never knew where I wanted to go or what I wanted to do with my voice," she says, "but I just wanted to do it so bad."
The world tends to love women singer-songwriters most when they're wounded and helpless.
Neko's music spans a broader spectrum, from longing to malice. Her lyrics evoke worlds, imagining a woman pilot ready to die, a serial killer, a murdered child, and a tornado, just for starters. Is there any perspective she can't write a song from or about? "I am a man," she sings. "I am the man in the fucking moon."
The Earth, too, and nature itself are wonders for her, from the dangerous attention of dandy wolves to a slaughtered tiger and birds frying on a wire. The world is dear to her, but there's a lot happening in it that shouldn't. It's not her job to comfort you.
You might try to come away from a Neko Case tune without a head full of images—but it's impossible. Still, her songs won't tell the whole story, rarely offering a panoramic view or a chronology. Instead, she offers up a series of snapshots, as if from a crime scene, and leaves the audience space to inhabit the closets and cathedrals she's built.
Neko seems to live to bend the shape of the melodies she writes. Listeners might feel the music going in unexpected directions, as she looks for the note that will negotiate a truce to fuse it to her lyrics. It's not that you can't find a verse-chorus-verse structure in a Neko song. But you're just as likely to find any chorus you hitch a ride with going off a cliff, or to hear a hook you think might be the chorus, only to watch it disappear.
Neko Case songs often exist with distinct sections that recall symphonies. Changing from ballads or waltz time to a rock beat and back, the elements sometimes seem wired together to make an improvised explosive device.
Talking about inspirations, she's as likely to mention Queen as Patsy Cline. Her work covers a big canvas, including collaborations with dozens of musicians over the years (Paul Rigby, Calexico, and an assorted set of sidemen known as "her boyfriends," just to name a few).
In studio, Neko obsesses over sound. Always involved with how her albums were recorded, she's seized and embraced the role of producer. Standing halfway up a half-built stairway, she hammers nails into place as she goes along. Despite blowing every deadline she's ever been given, Neko feels in her bones when a song or a project is done.
"Music is so weird," she says, "because you never arrive where you're going." If her career were mapped, it might be a choose-your-own-adventure book. She hasn't masterminded each album with some absolute endpoint in mind. "I've never been afraid to ask for help. I'm able to trust myself in the moments where I don't know what's going to happen."
Neko insists on being larger than the narrow space that the world allocates to women. But don't tell her what kind of feminist she's supposed to be. There's a famous dementia test in which you look at the pictures of an elephant or a giraffe and name them. Neko Case is the opposite of that. What if, by letting everything out of these cages, by taking the labels off living things, we had to encounter the world as it really is? The wild things, the lost things, the things that scare you, and the things that you love—what if it turns out all that is really home? What if, by writing about that, you could reinvent the universe?
What if some wild creature drags you out to the woods, but the woods begin to become the whole world, and your earlier home, still visible in the distance, suddenly seems less interesting than where you are now? You might be in the middle of a Neko Case song.
She's doing it on her own terms, but the legacy she's building is one that can stand up to music made by any other solo artist in her lifetime. Don't look away; you never know what might happen. "I'm just trying," she says, "to be myself as hard as I can."
Indigo Sparke is touring with Neko Case this season! 
"To be at the edge, at the precipice of anything, requires deep surrender. It's like dying over and over again. In the tidal throes of life at its fullest and most intense is the space where grace and strength is fortified and cultivated, is what I am learning" Indigo Sparke ruminates on her magnetic second full-length album Hysteria, a huge and beautiful sweeping work, one that possesses a rare, reflective power. From the first few notes, in the first song, Blue, something chilling and captivating pierces straight into the listener's chest. With harmonies reminiscent of the voices in our heads, she examines love, loss, grief, a newly realized rage, her history, dreams, and the emotional weather patterns surrounding those sensations: her words tell the stories, and the sounds act them out. It's a diary built for big stages. 'Hysteria' arrives just a year after her striking, minimalist debut, Echo. Here though, Sparke offers an expansive body of work—it's a simultaneously nostalgic yet clear and complex collection that expands her sound and outlook.
Work on the record began at the start of the COVID-19 pandemic while Sparke was stranded in quarantine in her native Australia waiting for her visa to be renewed so she could return to the States. Echo was being prepared for release, but Sparke was already experiencing a flow of creative thought as a result of shifts in her own life. "I was going through an intense separation and processing all of that in the deep flux of the world collapsing," she recalls. "I was moving through huge waves of grief and trying to reconcile what was going on, internally and externally. The grief opened a doorway to the past I thought I had made peace with. But there were days where I just couldn't get off the floor. It felt like everything was falling through this hole in my chest. It felt stark and nauseating to feel such immense groundlessness whilst also looking at all the different versions of myself I had been. All the varied different chapters I had experienced, from heavy drug use, to sexual abuse, love in all its forms, complex trauma and mental health, time spent living in India and Bali seeking something deeper to make sense of it all. It was almost like my life was flashing before my eyes. I realized I was in a profound altered state, as everything simultaneously stood still around me yet was flashing violently inside of me."
After moving back to New York in the spring of 2021, Sparke finished writing the album's 14 songs and decamped upstate with producer Aaron Dessner (The National, Taylor Swift). "I just had a really strong intuitive gut feeling that I would do this album with Aaron. We had met once years before in Eau Claire so I asked my manager to reach out to him. When we first talked, we talked about co-writing from scratch, I did have a big folder of demos but was nervous to share them, but after he heard them he said, 'There's so much to work with in here already,'" Sparke recalls on how Dessner, who also contributes instrumentation along with multi-instrumentalist and long time collaborator Shahzad Ismaily and drummer Matt Barrick (The Walkmen, Muzz), got involved in bringing Hysteria to life. "Aaron is such an incredible person, to feel his generosity and to feel him in my corner is a true gift. It definitely took a moment for me to get used to a different way of working and hand my trust and heart over to him and his vision but it also felt so natural and we became close friends in the process."
The connection felt intuitive for both Sparke and Dessner who recalls "I started hearing ideas listening to her voice almost immediately. We connected by phone and had a long talk. She was incredibly open and gracious and really it was creatively inspiring from the moment we started working. It always feels like some weird miracle when songs emerge that you want to listen to all the time — and this was definitely the case with her record. It feels cohesive and timeless and inspired to me in a way that I know I will keep coming back to. I think the chemistry is right." Centering Sparke's powerful vocals throughout, Hysteria is packed with big guitars and layered instrumentation that practically acts as the album's lungs, giving every note breath. If Echo bore the mark of producer Adrianne Lenker's intimate, spectral approach, then Hysteria is comparatively full-bodied and warm like a raging fire, as Dessner's ornate instrumentation perfectly compliment Sparke's songwriting. The result is music that sounds timeless.
This is music that sounds huge even as it zooms in on the trials and turmoils of one's inner life, from the pulsing immediacy of "Infinity Honey" to the soaring "God Is a Woman's Name" or the towering chorus on "Hold On." You can hear Sparke reflecting on reconciliation, grief, hope, and the passage of time on the perpetually building "Pressure in My Chest" and the airy, Joni Mitchell-esque title track, which finds her embracing a gorgeous upper register over gently strummed guitar. "Set Your Fire on Me" builds and bursts not unlike Angel Olsen's own raw folk-rock expressionism—and then there's the stark opener and first single "Blue," which acts as a cosmic road map for Sparke's own journey in life. "It was very stream-of-consciousness—it just came out in one go," she says while discussing how the song came together. "It's almost like a biopic, or my own version of The Odyssey, charting what I'd been going through while traveling through the realms of time. Being in the movement of grief, memory, and love was intense and beautiful for me, because I didn't feel stagnant—so the song has a galloping sense of expression as a result. It doesn't let up." While reflecting on the album's thematic bent Sparke observes "My mum pointed out how often I use the word 'blue,' which is kind of ironic because that's what my name means." There's all the shades of what blue could be, emotionally, and tonally throughout the record.
To Sparke, Hysteria is reflective of the growth she's experienced over the last many years—to the point where, in her words, it almost presents a different artistic perspective entirely. "I feel like I matured a lot in this epoch of expression," she explains. "When you are alone in the dark, you see yourself more clearly. I realized a lot of my behavior and patterns living at edge states. The edge of hope, sorrow, joy, etc. I was at the axis point inside of love right at the edge of a place that had been a home of hysteria for me in the past. Since this reckoning I've been determined to find a sense of surrender in the chaos. An unwavering trust and faith. And a will to remain kind and calm and patient with myself so that I can move towards embodying grace more and more. It's the only way to survive for me now. So there's a deeper acceptance of who I am and what's made me, me. I think in the process of all of this somewhere along the road I quietly became a woman and now I don't feel as fragile as I once did, or now, I accept the wild inner landscape of myself and my history and it gives me a different kind of strength to work from."
While the world that Sparke inhabits is a rich tapestry of sound that pulls the listener into circular spaces of seemingly never ending minimalistic textures and harmonic suspensions, what's most clearly on display is her voice and her song forms. Deceptively simple structures wind like labyrinths in a whirlwind of lyrical expression and vocal pageantry calling to mind the early works of PJ Harvey, Meredith Monk, and the like. These compositions are a warm invitation into her world