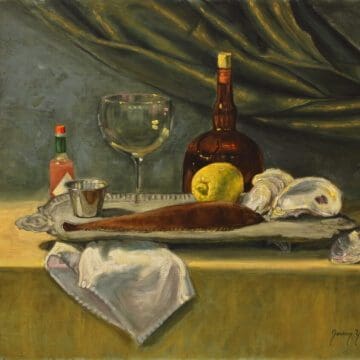 Bound Aberration – Jeromy Young
About
​Jeromy Young studied Visual Arts concentrating in Painting at the University of Louisiana at Lafayette. He is currently the Associate Director and Instructor of Painting at the fine art school, Achilles Print Studio and is the owner of The Frame Shop Gallery 912 in Lafayette, LA . He has been producing commissioned and original paintings for over 20 years. In his research and studio practice Jeromy focuses on the Classical techniques in oil painting and he continuously studies the works of various masters, particularly from the Baroque era, and most notably Rembrandt. Jeromy has exhibited in several national group shows and international traveling exhibitions and has donated his artwork to charity auctions. His work has been invited to auction at the New Orleans Auction Galleries and is in private collections throughout Louisiana and the United States. Recently, he was invited to exhibit his work at the Louisiana Art and Science Museum, the Alexandria Museum of Art, A. Hays Town Building at the Paul and Lulu Hilliard University Art Museum, and the Acadiana Center for the Arts. Jeromy was also invited to be a visiting artist at the Baton Rouge Community College and has been featured on LPB's Art Rocks as one of Acadiana's premier artists.
Artist Statement
I have always been an admirer of the Old Masters, and a student of classical technique. Salvador Dali said to, "Begin by learning to draw and paint like the old masters. After that, you can do as you like; everyone will respect you." But the Old Masters are the apotheosis of painting, so it has not been an easy task to learn to paint like them. They learned painting technique firsthand from their own masters, and classical technique comes in many variations. I set out to figure it out mostly on my own, because times have changed.
On this path, I worried that it was not quite good enough, and that before I could find my voice and really "speak," I was supposed to reach some particular (mysterious) level of mastery. Therefore, every painting that I have done over the past 20 years has in many ways been a study to me, mostly a way to get better.
I am a late bloomer and a throwback sometimes feeling as if I live outside of my own time. Over the years I kept some ideas hidden away in the most remote places in my mind. I am like a magma chamber that is finally going to erupt.
My more recent work has an energy that is like a precursor, like tremors or foreshocks. There is a narrative behind each and every painting. Yet, Subjective Madness is the beginning of me giving myself permission to really "speak", it is a vent. I realize and accept that I am an artist with many conflicting voices, all at odds. This is a new direction that I will take, I want my paintings to be more symbolic and metaphysical. I have endless ideas that have to come out or I might explode, so many things to try and explore.
Image Gallery