Fundraisers & Parties
Special Events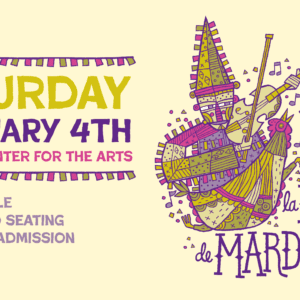 Join us for a country dance at AcA celebrating the rural traditions of Mardi Gras in the big city.
...
Please join Acadiana Center for the Arts for a reception
...
Experience the arts at Student Arts Expo with performances and
...
No event found!
Second Saturday ArtWalk
New and exciting art, every month
During Second Saturday ArtWalk, Downtown comes alive as each independent gallery, studio, and art house opens their doors for this free community event. Art aficionados and casual patrons alike will leave inspired as they explore the Downtown Lafayette Cultural District.
AcA is a buzzing hive of activity for this monthly gathering, with one or more new art exhibitions opening every month and a host of free art activities for the whole family.
AcA Member Events
Enhancing the cultural life of the community and promoting local artists
We are the central, organizing and convening hub of arts and culture in Acadiana. AcA's professional staff serve to support artists, musicians, creatives, and cultural organizations across the region.
An intimate evening of music, art, and cuisine, set against the backdrop of a historic home in Acadiana.
Experience the arts at this year's Expo with performances and visual arts exhibitions from Lafayette Parish public schools!
Gulf Brew
Celebrating the craft of beer at the best time of year!
Acadiana Center for the Arts presents Gulf Brew, Louisiana's oldest craft beer festival, an outdoor street festival along Jefferson Street Downtown Lafayette.
The Pelican Ball recognizes the people who have shaped the arts in Acadiana through their commitment and service. We honor both individuals who have contributed directly to the arts council's work and individuals who have shaped the broader cultural life in Acadiana through their work.
We honor these individuals, and we celebrate our thriving culture in the best way we know how: with a night full of food, music, and artful surprises amidst the core 'flock' of Acadiana's cultural community.