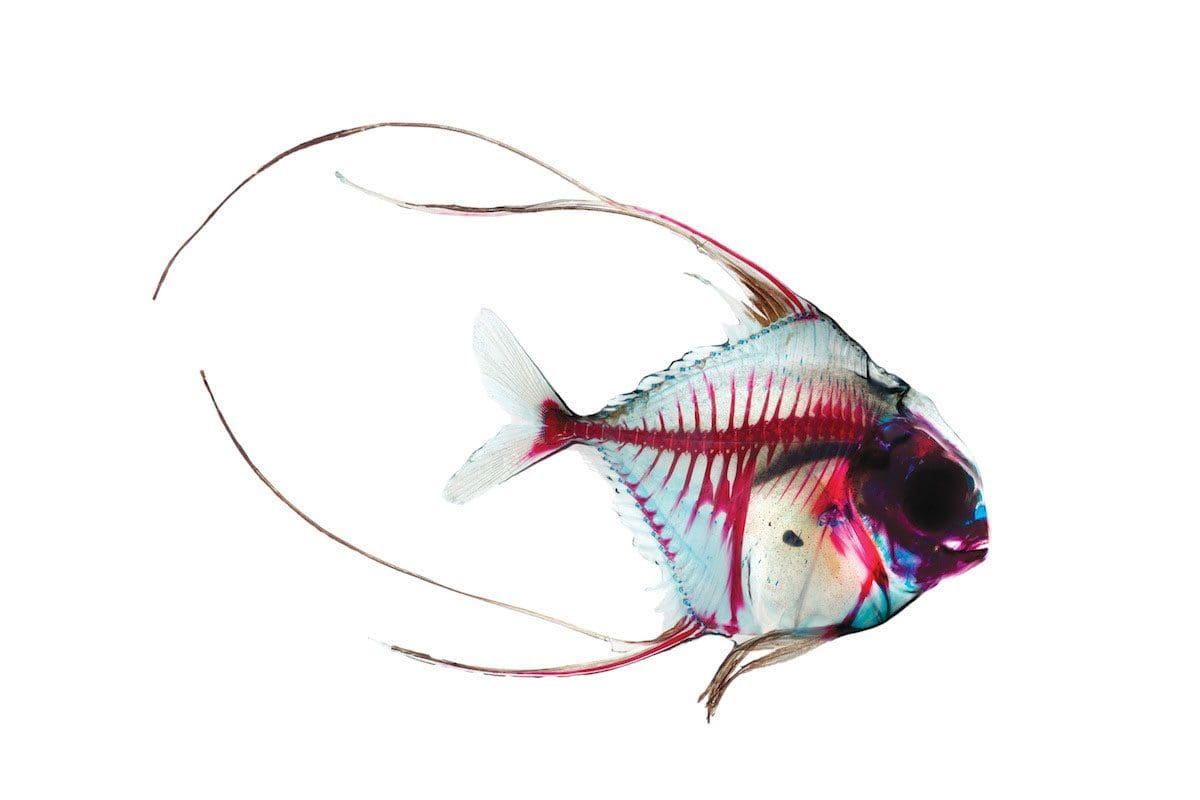 Brandon Ballengée: The Age of Loneliness
Brandon Ballengée: The Age of Loneliness is a large-scale exhibition, showcasing 10 years of work by the artist, biologist, and 2021 Guggenheim Fellowship award-winner. Three large projects by Ballengée will span the first floor of the AcA, inside and out.
The artist explains, "We are in the middle of a mass extinction event, referred to as the Anthropocene or Sixth Great Extinction. Here, many familiar species, like frogs, turtles, butterflies, bumblebees are disappearing… and rapidly. We have lost over forty percent of amphibians and more than half the planet's overall wildlife since I have been alive. The renowned scientist and environmental philosopher Edward O. Wilson has even described this era as the Eremozoic1 (eremo coming from the Greek for lonely or bereft) or the 'Age of Loneliness'."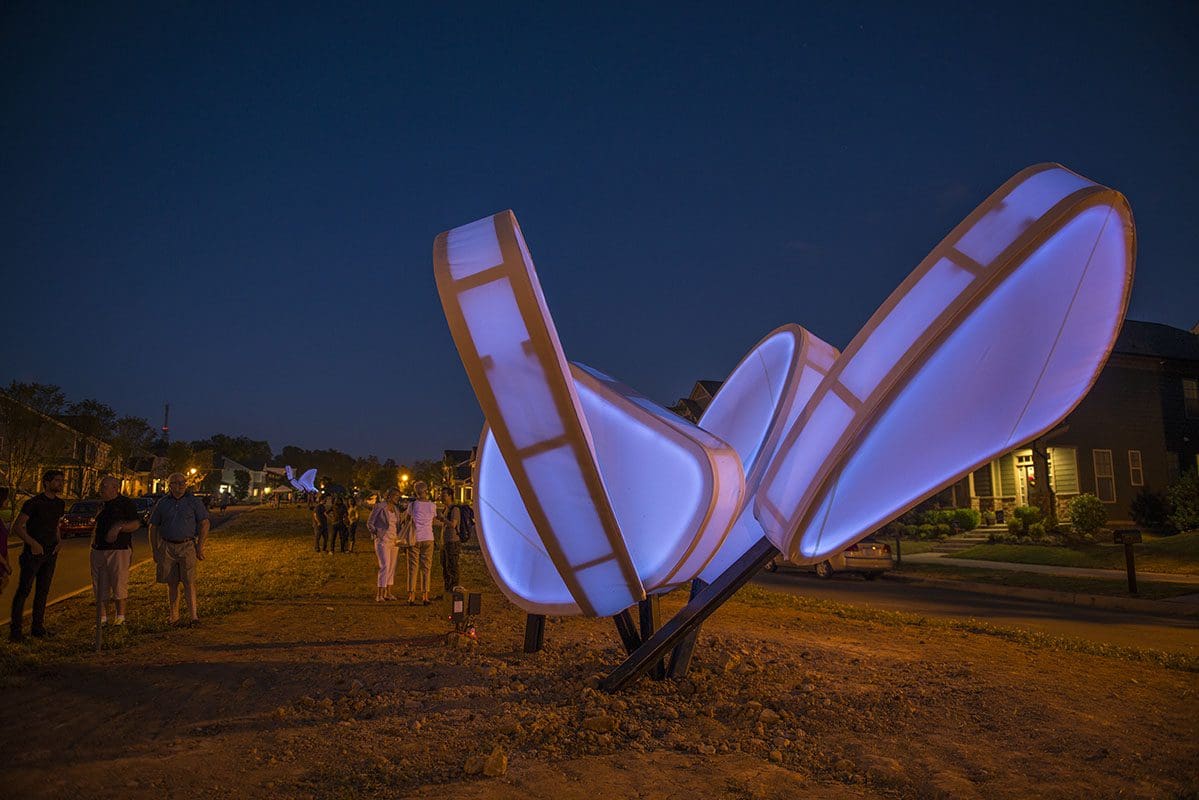 Love Motel for Insects
Visitors will first interact with the artist's playful "Love Motel for Insects" which will feature large-scale outdoor sculptures lit by UV light and specially planted pollinator gardens that attract butterflies. Ballengée invites visitors to engage directly with the insect life, and he supplies survey tools and an iphone app for visitors to catalog the species that they encounter. Viewers become hands-on participants and have an opportunity to learn more about the insect life that surrounds us every day.
During the day, butterflies and other pollinating insects visit the "Love Motels for Insects," attracted by the native pollinator plants and large white forms of the sculptures. At night, moths, lacewings, beetles and other rarely seen nocturnal arthropods continue the festivities, attracted by the softly glowing UV lights. Many of these species are in severe decline, like the Monarch butterfly, the European honeybee, native Bumblebees and others, and the Love Motel for Insects is a direct ecological action to support their populations.
The sculptures also create opportunities for trans-species happenings, allowing the public to interact with these important pollinators and other arthropods. By inviting people to bug watch, we show them an essential side of ecosystems, using art as a means to engage them in a larger dialogue on environmental issues.
The "Love Motel for Insects" was most recently on display at multiple sites in Houston, TX, including the Houston Museum of Natural Science, the Cynthia Woods Mitchell Center for the Arts, and the University of Houston Science Center.
Collapse
Further into the exhibition, Ballengée explores more deeply mankind's checkered relationship to the natural world. The centerpiece of that work is an unconventional sculpture titled "Collapse," which is the artist's response to the 2010 Deepwater Horizon oil spill. "Collapse" features a pyramid of 26,162 specimens in jars, all collected by Ballengée during research trips in the Gulf of Mexico. The jars depict the enormous biodiversity of species that are unique to the Gulf, and various empty jars represent species that are now extinct. Through interacting with this colossal sculpture, viewers receive a visceral reminder of the vast number of species affected by mankind's activities.
"Here, many familiar species, like frogs, turtles, butterflies, bumblebees are disappearing… and rapidly," explains Ballengée. "We have lost over forty percent of amphibians and more than half the planet's overall wildlife since I have been alive."
Renowned scientist and environmental philosopher Edward O. Wilson has described this era as the Eremozoic, which translates to "the Age of Loneliness," from which Ballengée derived the name of the exhibition at AcA.
Ghosts of the Gulf
Louisiana State University research team published that 14 fish species, endemic to the Gulf of Mexico, have not been reported following the Deep Water Horizon spill.
Even prior to the spill, several Gulf fishes remained elusive and had not been found in decades (1950 through 2005). Little is known about these species and the only records we have of their existence is a handful of preserved specimens scattered among natural history collections.
In response, Ballengée created portraits of these missing species, which he refers to as Ghosts of the Gulf, as a way to give form to each of the lost species.
Some portraits are printed radiographs while others are drawn using solidified Deep Water Horizon 'tar balls' collected from Gulf beaches or from 'fresh' crude oil from the Taylor spill.
These Ghosts intend to convey mystery as well as melancholy, as a means to engage audiences towards introspective contemplation, asking what is lost from our collective treatment of the Gulf.
"I am also interested in what creating portraits of missing animals means at a point in history where we find ourselves in a mass extinction event, when species are disappearing so fast that we cannot even scientifically record them." – Brandon Ballengée
Read more about the Ghosts of the Gulf in 64 Parishes
About the Artist
Brandon Ballengée (American, born 1974) is a visual artist, biologist and environmental activist based in Arnaudville, Louisiana.
Ballengée creates multi-media artworks inspired from his ecological field and laboratory research. Ballengée's art has been exhibited internationally in over 20 countries and in the summer of 2013 the first career survey of his work debuted at the Château de Charamarande (Essonne, France), which travelled to the Museum Het Domein (Sittard, Netherlands) in 2014.
He has received numerous awards and fellowships, including a Smithsonian Artist Research Fellowship (2017), Awards from the National Academies Keck Futures Initiative (2015, 2016), Creative Capital Award (2019), a Guggenheim Fellowship (2021) and was included in the 2020 Grist 50 Emerging Environmental Leaders.
In 2016, Ballengée in partnership with his wife sustainable food educator Aurore Ballengée began the Atelier de la Nature an eco-educational campus and nature reserve in Arnaudville, Louisiana.
Thank you to our amazing Host Committee:
Lisa & Chuck Boudreaux
Couvillion Group
David & Jon-Ella Hays
IDI Workspaces
This exhibition is funded in part by a grant from South Arts in partnership with the National Endowment for the Arts and The Louisiana Division of the Arts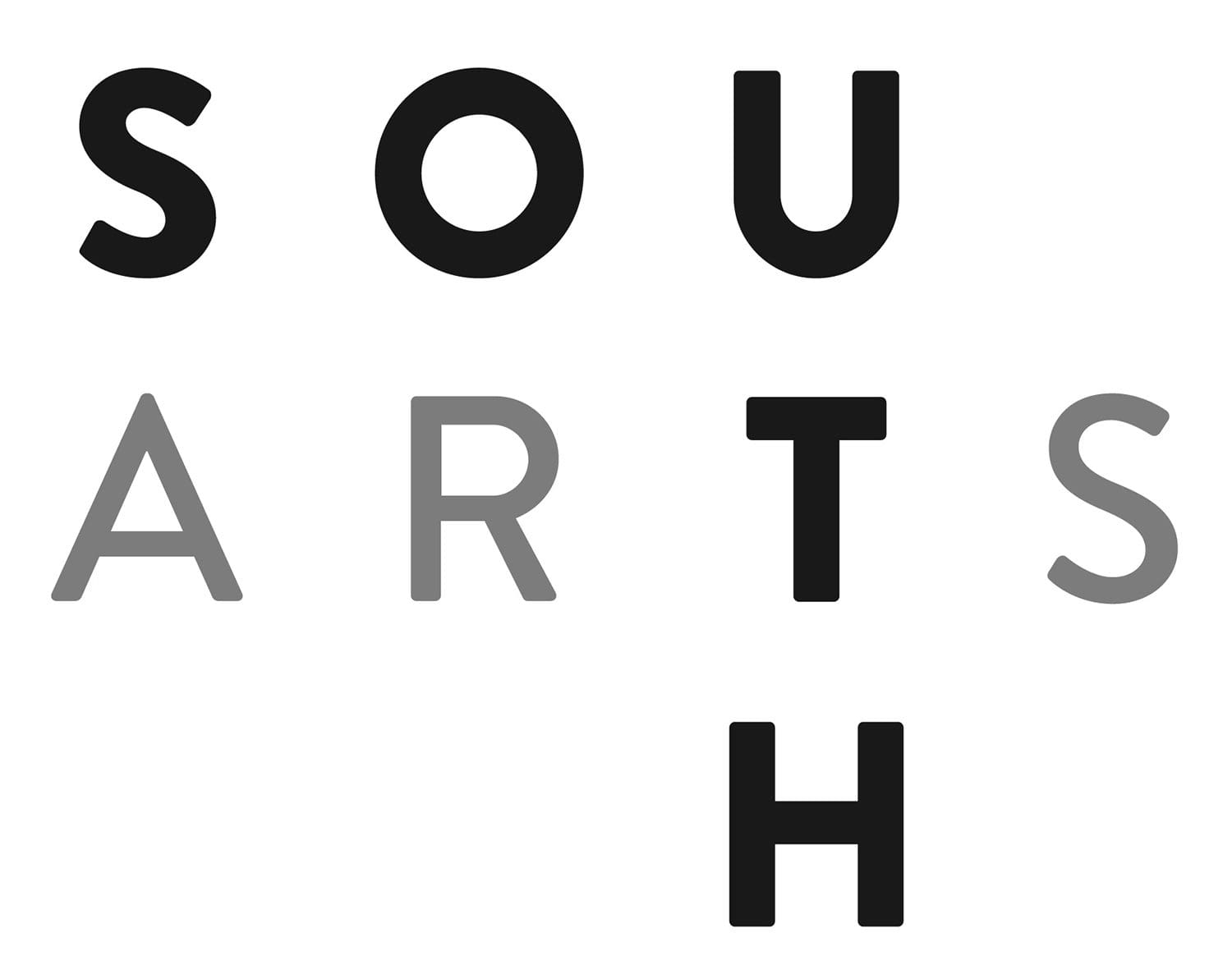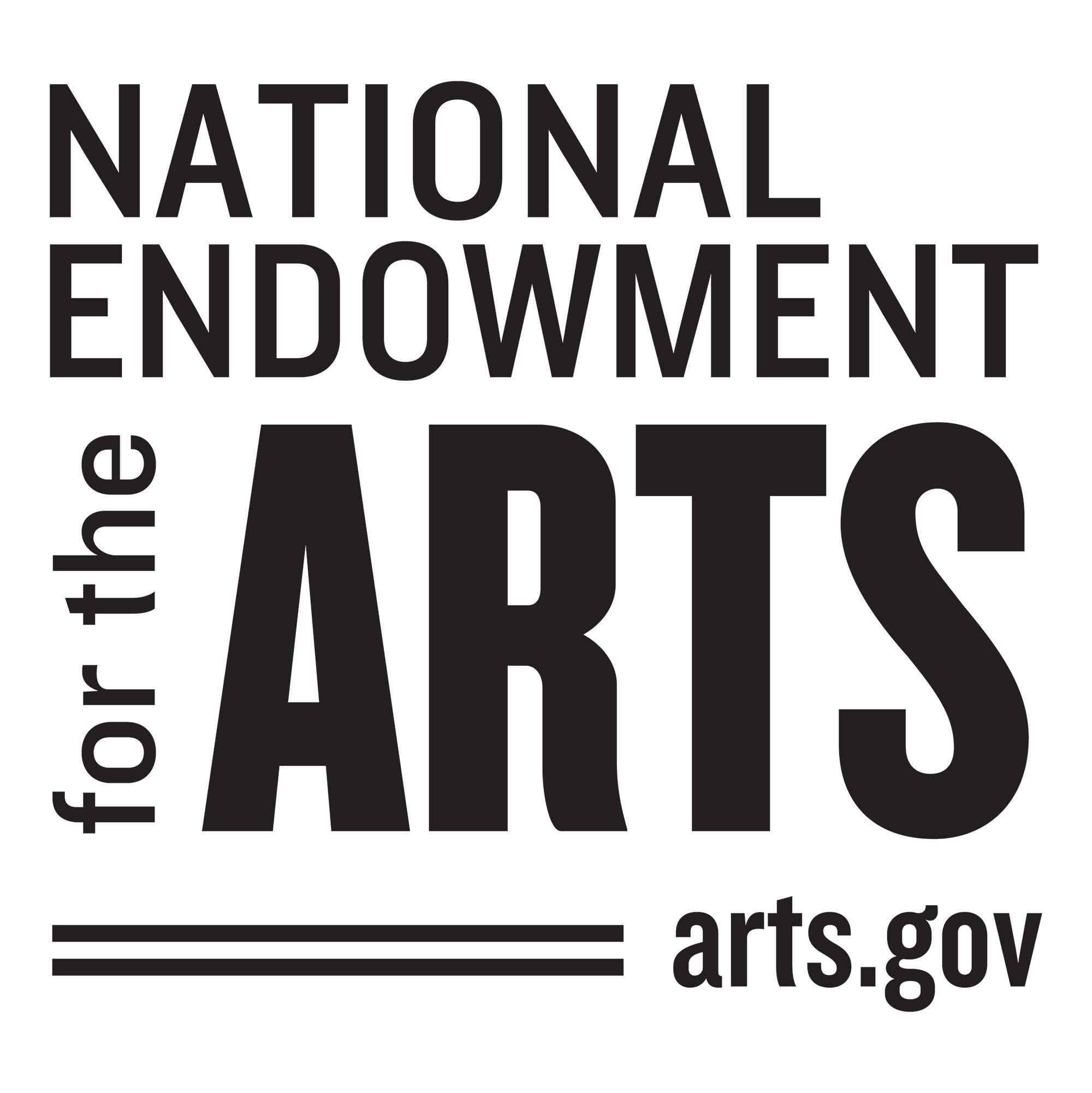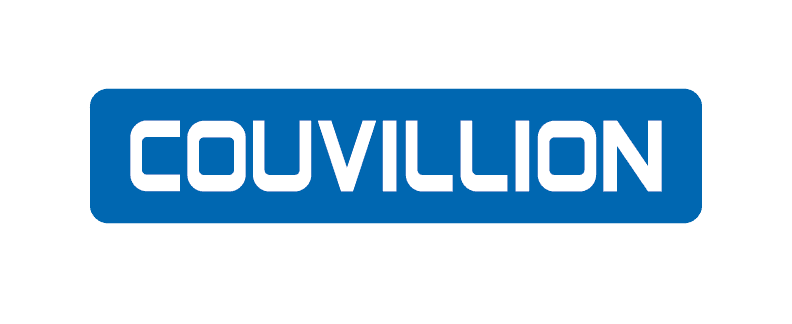 The artist wishes to thank ArtSpark, Creative Capital, The Deep South Solidarity Fund & the John Simon Guggenheim Memorial Foundation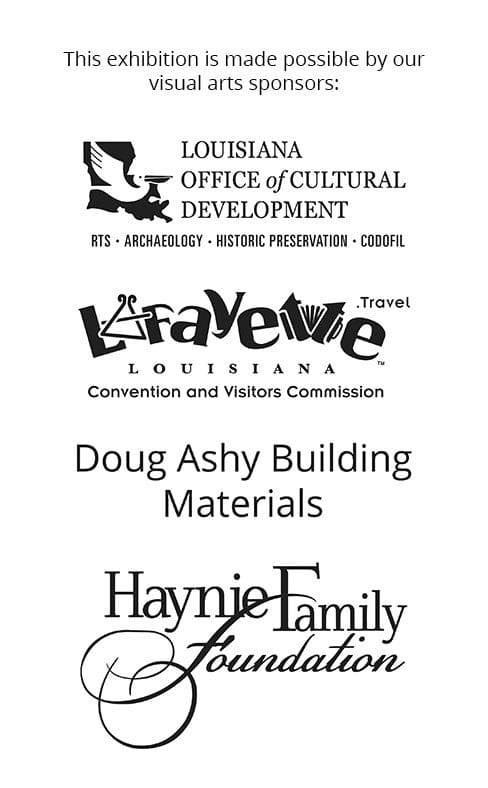 Hours and Admissions
Suggested donation of $5/person visiting AcA's galleries.
Daytime Hours: Public gallery hours are 9am-5pm Tuesday through Saturday.
Evening Hours: This exhibition is on view during evenings of select AcA events.
Field Trips and Group Tours: AcA accommodates groups and field trips, offering private tours and interactive art making activities to compliment the experience. Contact us for more information and pricing.
Why a suggested donation, you ask?
Your donation helps bring art from around the world to our community AND supports local artists who exhibit in AcA's galleries. Since our founding in 1975 and since this building opened in 2004, AcA has showcased thousands of artists. This space has become a hub for artists and art-loving audiences right here in Acadiana. Your dollars help make both of those things happen!
Interested in doing more? 
Consider becoming a member at the level that suits your budget and interests best. Whether it's the President's Circle, Young Insiders, Family Membership (or any one of our many levels of support), there's something that fits your budget and can let you express how much a strong cultural life in Acadiana means to you. Ask how to become a member at the front desk.
Thank you for helping bring great art to our community!