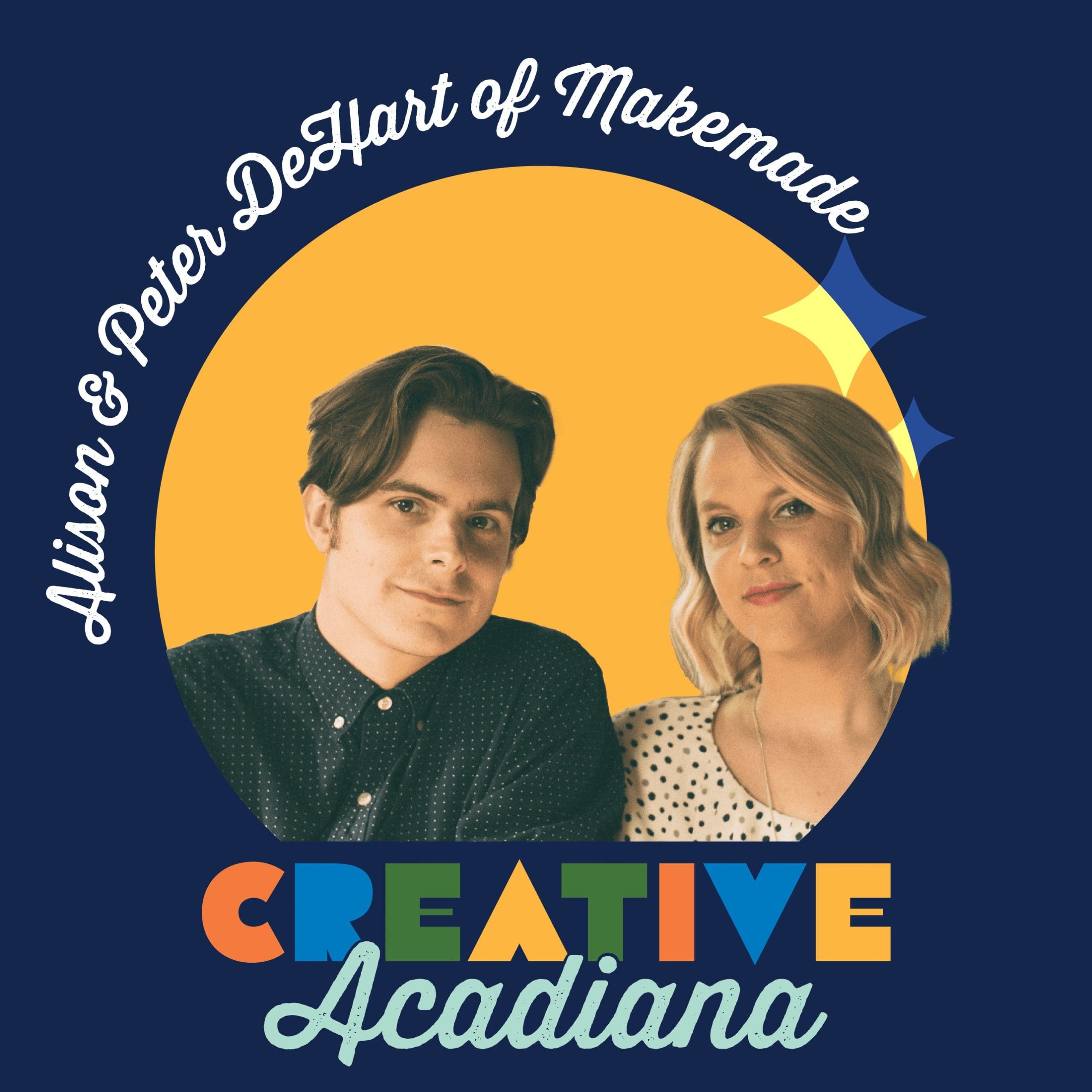 Creative Acadiana: Documenting Your Work for Your Portfolio
Join us for a two-part workshop that will teach you the essential skills for documenting and showcasing your visual artwork and sculpture for portfolio. In the first session, Allison & Peter DeHart of Makemade will demonstrate the process of looking at an art piece to develop a plan for lighting your various works of art. Then, they will demonstrate the process of lighting various art pieces to be photographed during the workshop. In the second session, you will learn how to edit on the computer and finalize your photos for use in your portfolio. Whether you are a professional artist or just starting out, these two workshops will give you the understanding you need to showcase your work in the best possible way.
Allison DeHart
As a Louisiana filmmaker and cinematographer, Allison Bohl DeHart explores intimacy and legacy, often turning her camera on aging, idiosyncratic figures. Along with collaborator Conni Castille, Allison won New Orleans Film Festival awards for her work on the short-documentaries I Always Do My Collars First and Raised on Rice and Gravy, two films that find beauty in the ordinary folkways of south Louisiana. "Bending Lines: The Sculpture of Robert Wiggs" is Allison's first feature length documentary about the sculpture of Robert Wiggs which was also co-directed and produced by her husband and business partner Peter DeHart. After having its world premiere at Full Frame Documentary Film Festival, the film has shown internationally and is now being distributed through the Docurama Channel, a division of Cinedigm. Allison was awarded the 2020 #CreateLouisiana French Culture Film Grant for the short fiction film 17 Year Locust. After having its world premiere at the New Orleans French Film Festival, it has gone on to broadcast on TV5Monde USA, PBS Online and premiere at many festivals throughout the United States and Canada.
Peter DeHart
Peter is co-founder and creative director of Makemade, a multi-faceted design studio and filmmaking company in Lafayette, LA. An industrial design graduate of the Savannah College of Art and Design, his work expands across many creative fields and a variety of mediums. With graphic design, products, films and illustrations focusing on simplicity, playfulness and clarity, Peter's work has been recognized by Communication Arts, American Advertising Federation, Full Frame Documentary Film Festival, and Alexandre Trauner ART/Film Festival.
SOME NOTES FOR PARTICIPANTS
These are also stand-alone sessions. Makemade will provide an equipment list and a comparable equipment package will be available to hire from AOC Media. To hire equipment from AOC you will need to be a member. They are offering participants of these sessions membership at the student rate. You may sign up for AOC Membership here: https://www.aocinc.org/join (this is not mandatory).
While it is recommended that you have your own laptop and software for the second session, AOC has some computers available for use. If you require equipment, please contact community@acadianacenterforthearts.org to reserve your spot.