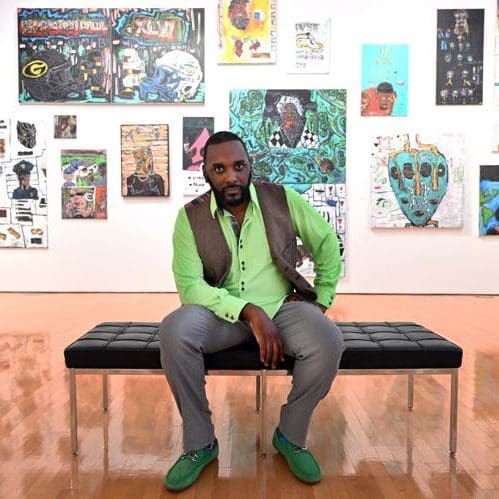 Artist Talk John Isiah Walton, Black Identity in the Cyber Age
John Isiah Walton will be joined in conversation with Allison Young to discuss Black Identity in the Cyber Age. This free Creative Acadiana session will run directly before Second Saturday ArtWalk on March 11.
John Isiah Walton is a New Orleans artist whose neo-expressionist works are internationally recognized for their commentary on race, class, identity, and current events through his irreverent, frenetic and sometimes absurdist style. His art has been on show at the Art Lab Akiba (Tokyo, Japan); the Atlanta Contemporary Biennial (Atlanta, Georgia); the Ogden Museum of Southern Art (New Orleans, Louisiana); the permanent collection of the New Orleans Museum of Art; the Ohr-O'Keefe Museum of Art (Biloxi, Mississippi); P339 (Brooklyn, New York); and more. His residencies include the Macedonia Institute (Chatham, New York) and the Joan Mitchell Center (New Orleans). In 2022, he will showcase work in Tel Aviv, Israel.
Influenced by internet aesthetics, Black identity, pop culture, and Louisiana history, Walton's subjects are often unconventional and sometimes shocking. In the tradition of Basquiat, his work frequently has hidden meanings and symbols, and his choppy brushwork endows the work with the energy and intensity that the artist is known for. Rooted in concern about the social, economic, political, and cultural structures at play in contemporary life, Walton's best-known series sometimes encourage discomfort.
Allison Young is assistant professor of contemporary art history at LSU, and an affiliate faculty member in the department of African and African American Studies (AAAS) at LSU. A specialist in postcolonial and contemporary art of the Global South, she received her B.A. (2009) in Art History and Anthropology from Brandeis University, and her M.A. (2012) and Ph.D. (2017) from the Institute of Fine Arts, New York University. Young's scholarship centers primarily on African and African-Diasporic artists and art histories, with focus on questions surrounding migration, transnationalism, and political engagement in contemporary art. Her research has been supported by several recent grants and fellowships, including a 2022 Summer Stipend from the National Endowment for the Humanities, a 2022 Franklin Research Grant from the American Philosophical Society, a 2022 Monroe Fellowship from Tulane University's New Orleans Center for the Gulf South, and a 2021 Research Support Grant from the Paul Mellon Centre for Studies in British Art at Yale University. She is honored to have received the 2022 Tenure-Track Faculty Award from the LSU chapter of the Phi Kappa Phi Honors Society.