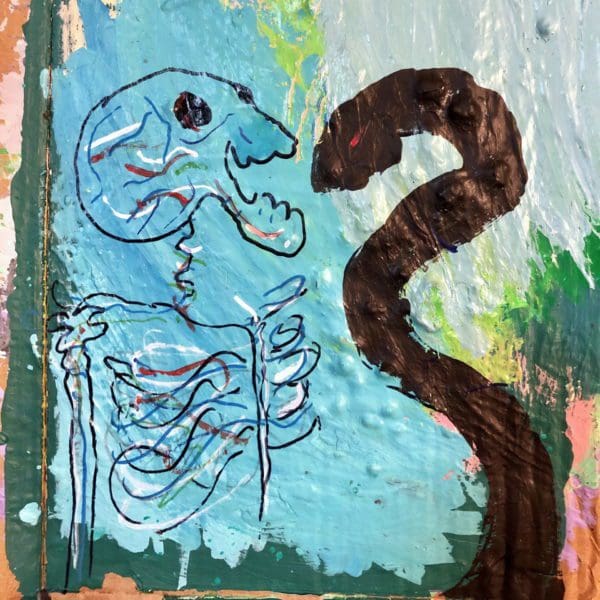 James Van Way: Doodlebug & Them
James Van Way: Doodlebug & Them reaches beyond our world into the realms of fantasy and alternate-reality for an exhibition of painting and creative installation.
A note from James Van Way III:
Nearly a decade and a half ago, I became loosely acquainted with a mysterious Painter who lived in an abandoned motel. I never learned his name. He kept a mannequin in his room that he called 'Doodlebug.' He told me a story about how creatures from another dimension (in the Earthly shape of snakes) possessed Doodlebug and were able to use his body to do various tasks. And, through this, he was able to teach the creatures, and thereby Doodlebug, how to paint.
When the motel was finally being razed a year or so ago, I decided to venture in and see if anything was left. To my astonishment, not only were Doodlebug's paintings still there, but so was he! This is my installation of what I found there, as well as a tribute to the Painter and to Doodlebug.
Special Thanks to Philippe Billeaudeaux and Pompano Studios for his animated short, "Doodlebug," featured in this installation.
Hours and Admissions
This exhibition is free and open to the public.
Daytime Hours: Public gallery hours  are 10am-5pm Monday to Saturday.
Evening Hours: This exhibition is on view during evenings of AcA performances and Second Saturday ArtWalk.
Field Trips and Group Tours: AcA accommodates groups and field trips, offering private tours and interactive art making activities to compliment the experience. Contact us for more information and pricing.
Media