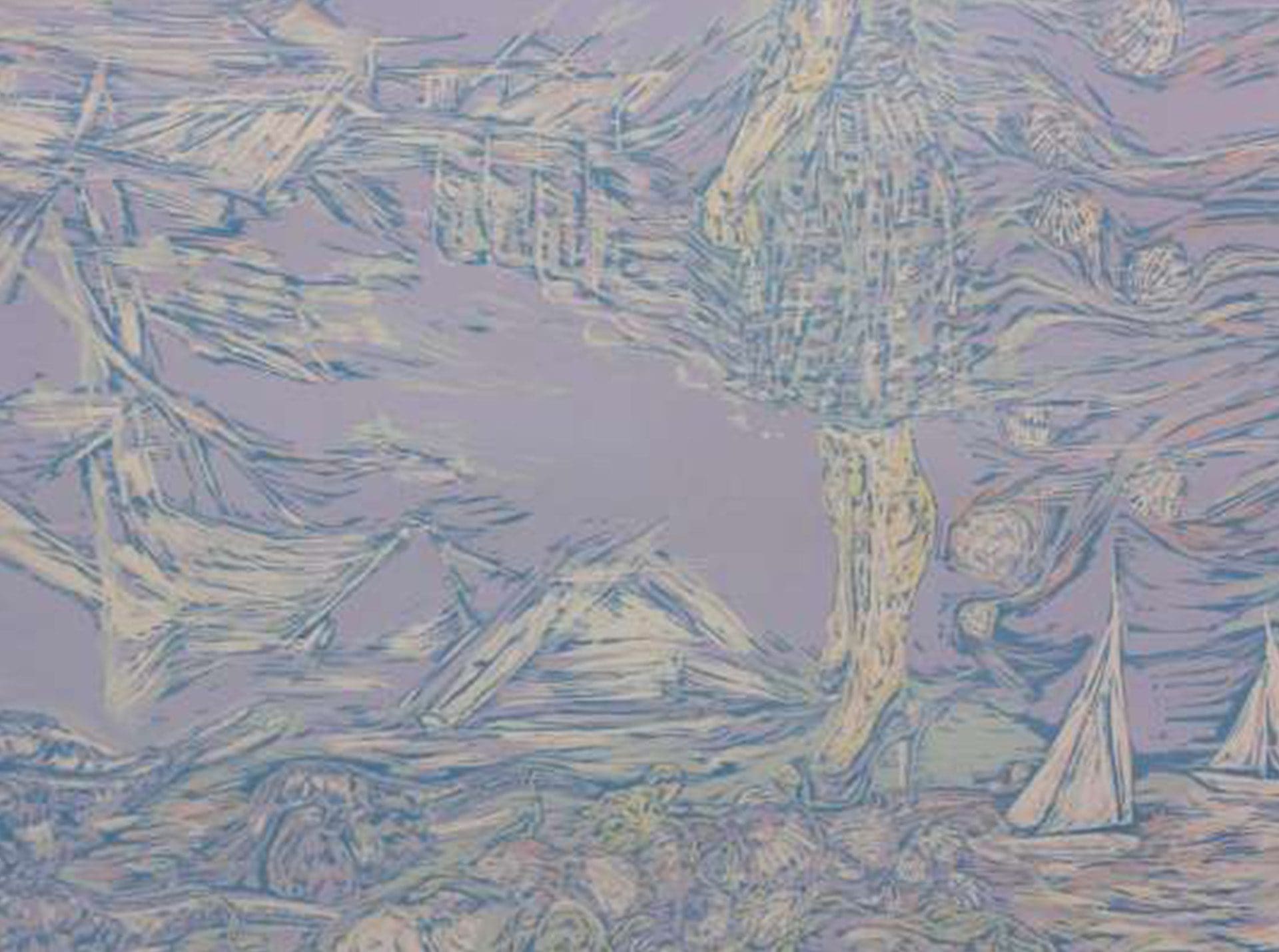 Jessica E. Moore: To Toil in Achilles' Heel
ARTIST STATEMENT
This body of work represents a combination of my personal memories and explorations of relationships between humans and animals using a variety of mediums, including printmaking, drawing, and installation. I have lived in or visited Florida, Louisiana, Texas, and Thailand. I explore these environments and others, both geographically and psychologically, using nostalgic imagery. I also use reoccurring motifs of animals as a metaphor, as a reference to the essence of the spirit of animals, encapsulating their human qualities.
Employing the medium of printmaking, my work attempts to create narratives that act as visual memoirs, where the theme and idea bond together memories, bringing forth a concept. Within these visual memoirs, there is often fairytale imagery, calling on the tradition of the heroine to expand the metaphors in my narratives. I explore the questions of how we rebuild ourselves through turmoil and how empathy helps us find a sense of renewed place. I explore and discover these elements, in order to have a better understanding of our human nature. Everyone's tragedies and triumphs are different, and while we may not be able to always compare ourselves to others, perhaps we can build a better understanding of one another. Perhaps addressing concepts such as memory, empathy, and fragility through the creative process can help us to better understand our vulnerabilities and strengths in times of strife and conflict.
Another aspect of my work is the idea of how one rebuilds after turbulent times. Whether people are rebuilding a city after a destructive event or rebuilding themselves after a battle with cancer, there are commonalities. In most cases, weaknesses and fragility are overcome by emerging strengths. This idea that we adapt and reconstruct leads to a question: How do we go about finding our inner strength following personal or natural tragedies? This is the question I seek answers for, and while I am not sure of all of the ways we achieve this, I do know that we are simultaneously fragile and strong. This is a fundamental quality of humans, the tenacity that defies our fragility.
This concept of the resilience of the human spirit forms the basis of my work. My investigations of animals helps me understand the combination of fragility and emerging strengths.
ARTIST BIO
Jessica E. Moore received her BFA in Studio Art: Printmaking at the University of Louisiana at Lafayette in 2011. In 2015 Jessica received her MFA in Studio Art: Printmaking, with a Secondary Emphasis in Drawing, at Texas Tech University. At Texas Tech, she worked as a graduate part-time Instructor and taught Figure Drawing and Printmaking classes. Jessica has exhibited in numerous national and international group shows and has donated her artwork to charity auctions. She has had several solo exhibitions as well as participated in over 50 invitational and juried exhibitions across the United States. Jessica visited Thailand, where she was invited to teach relief printmaking at Maharaja Nakorn Chiang Mai Hospital. She was also invited to teach printmaking classes at the Charles Adams Studio Project in Lubbock, TX. Jessica is currently the curator at the Frame Shop Gallery 912 and is the owner and director of the fine art school, Achilles Print Studio in Lafayette, LA. Her work has appeared in a number of books, journals, and articles. Recently, Jessica was invited to exhibit her work at the Cornell Art Museum, Alexandria Museum of Art, Acadiana Center for the Arts, and she won first place in Art Melt, the largest multimedia juried art exhibit in Louisiana.