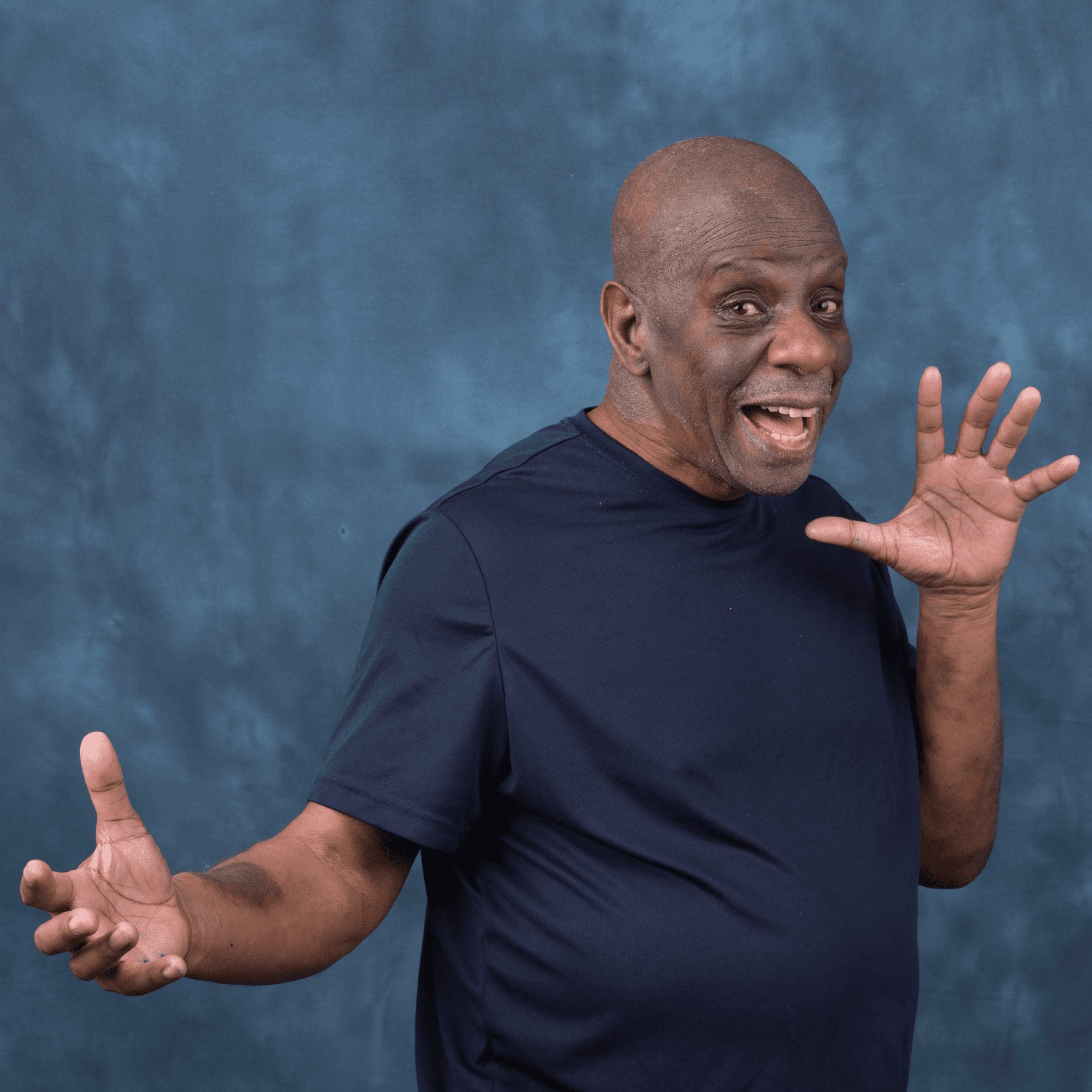 Jimmie Walker – CANCELLED
Due to personal reasons, Jimmie Walker has cancelled this show
__________________________________________________________
Rising from the streets of New York's ghettos to television superstardom, Jimmie Walker personifies the great American success story. His catch phrase "Dyn-o-mite!" is part of the modern vernacular, and he became such a major celebrity in the 1970's that Time Magazine named him "Comedian of the Decade."
Walker was born on June 25th, 1947, on the mean streets of New York's South Bronx. At the time it was a poverty-ridden area notorious for its burned-out buildings, graffiti and crime, but to a very young boy, it was nothing more than "the neighborhood." Jimmie didn't grow up with thoughts of performing as a potential occupation. His life in the Projects centered around the basketball courts and ignoring school. Basketball was his first love, but at age fifteen, Jimmie only carried 129 pounds on his six-foot frame, and the NBA wasn't calling.
He left high school before graduating and joined the workforce, holding a number of odd jobs, including working as a vendor at Yankee Stadium. Walker eventually landed a delivery job at the Grand Union Market at a salary of $47 per week – before taxes. Even though he was working all day, Jimmie wanted to continue his education, so he made an arrangement with his boss to end his shift a little early and attend Theodore Roosevelt High School at night. He entered into the federally funded SEEK program, short for Search for Education, Evaluation and Knowledge, which accepted students who needed an educational "half-way house" as they climbed the educational ladder. His studies at SEEK focused on mathematics and literature. At age 19, Walker had some catching up to do with his grammar lessons, but his writing skills became stronger when he began writing for a class in Oral Interpretation—and along the way, he discovered he was funny. When he delivered one piece he'd penned to his SEEK classmates, they howled! When asked by one appreciative teenager, "Are you a comedian?" Walker answered, "I guess I am." And with that, the first seeds were sown for Jimmie Walker's comedic fame.
Upon completion of the SEEK program, Jimmie began to learn about the world of radio at the RCA Technical Institute. He started as an engineer, which required a first-class license that was available only through hours of study and by passing a test. Within a year he had earned his first-class ticket to the future. Jimmie walked into a small local radio station, WRVR, and was immediately hired as a part-time engineer at a salary of $100 per week.
In 1967, he improved his "day job" by moving up to WMCA radio for $250 a week, but performing comedy was still something he wanted to try. A mutual friend introduced him to The Last Poets, a group dedicated to performing militant poetry. They needed an opening act and after a successful audition, Walker opened for the Poets at the East Wind in Harlem on New Year's Eve. He did five minutes of standup, floored the crowd of 350, and stayed with the Poets for 18 months while he built his act and gained confidence as a performer.
By 1969, Jimmie was on stage at the African Room in Manhattan along with a few other up and coming talents, including Bette Midler, David Brenner and Steve Landesberg. Brenner was the first to get his big break and then helped Walker and the others, moving them all to Budd Friedman's Improv in New York where they occasionally got some valuable stage time. Brenner and his "disciples" soon turned into crowd favorites and became regulars onstage. To top it all off, Walker spent a year as the youngest MC in the history of the world famous Apollo Theater in Harlem.
In those early days, doing "The Tonight Show" was a direct line to the Big Time. Brenner made it first, followed by Landesberg, Midler and Freddie Prinze, but by 1972 Jimmie still hadn't landed that "big break."  Then Brenner, Landesberg and Midler, scheduled for the powerhouse "Jack Paar Show", refused to appear unless Walker was also given a spot. The Paar staff gave in, and were glad they did. Jimmie's first guest shot was successful beyond anyone's expectations. Dan Rowan, who had seen the show, immediately flew Jimmie to Los Angeles to guest on a "Laugh In" special. That was followed by a second guest spot on "Jack Paar", and a contract with CBS to perform each week as the audience warm-up for the sitcom "Carlucci's Department."
These series of successes gave Walker the confidence to give up his day job, and in 1972 he was working as the main attraction in all the top comedy clubs at the time.
Then one day, Jimmie was spotted by the casting director for Norman Lear of "All in the Family" fame and where he would eventually land a part in Lear's new urban-styled comedy series, "Good Times" and the rest is History.
The role of the broadly strutting, wisecracking J.J. Evans would launch him into television superstardom. "Dyn-o-mite!" was the phrase that made him famous nationwide. As "Good Times" enjoyed a six year run, Walker's fame grew exponentially. He was the first winner of the NAACP Image Award, and won a Golden Globe nomination for Best Supporting Actor in a Comedy Series. He appeared on "The Mac Davis Show," "Donny and Marie," "The John Davidson Show," "The Merv Griffin Show," "Dinah," "The Mike Douglas Show," "The Hollywood Squares," and the "Match Game." Clothing, tee-shirts and even a talking doll that blurted out his signature catch phrase were soon on store shelves everywhere.
Even with his demanding schedule, Jimmie continued to appear as the headliner at top comedy clubs, including the world famous Comedy Store in Los Angeles. His joke writing team included a young David Letterman, Jay Leno and Byron Allen.
Walker's television work would lead to movie roles, like boxer Bootney Farnsworth in "Let's Do It Again," co-starring with entertainment luminaries Sidney Poitier and Bill Cosby. Jimmie also released a smash comedy album, "Dyn-o-mite!" that went gold. When "Good Times" ended in 1979, Aaron Spelling offered Walker a starring role in the short-lived "B.A.D. Cats" and returned to cast him again in 1983 in "At Ease", an ABC series about a bunch of United States Army misfits. He also landed choice roles in films like "Airplane!" and "Airport '79", and was a regular on television shows like "The Love Boat" and "Fantasy Island". In recent years he's made scene-stealing appearances on "The George Lopez Show", "Everybody Hates Chris" with Chris Rock, and "Scrubs."
But despite all Jimmie's success on the big and small screens and having his autobiography Dynomite!: Good Times, Bad Times, Our Times published in 2012, stand-up comedy remains his first love. Walker currently tours the country 35 to 45 weeks a year performing live, and guesting on game shows and late night television.
In his spare time, he writes scripts for TV and movies, and continues to enjoy a comedy career now approaching five decades.
---
Tickets:
$20 – Mezzanine
$25 – Rear Orchestra
$35 – Front Orchestra
---