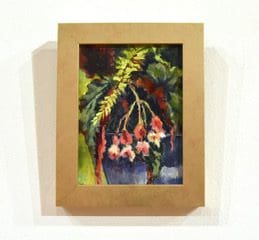 Open Studio Acadiana: Quarantine 2020
Open Studio Acadiana: Quarantine 2020
Artist: Andrea Schellman
Title: Angel Wings
Year: 2020
Medium: oil on board
In association with the Louisiana Crafts Guild, AcA is hosting its annual exhibition featuring artworks by Acadiana artists.
Open Studio Tour: Quarantine 2020, includes over 50 works ranging from paintings and ceramics to textile art, jewelry and sculpture.  Most of the works will be for sale. The Louisiana Crafts Guild is the co-sponsor of the show.  Burnell Lemoine, president of the Guild, explained the show's aim saying, "The Crafts Guild and the AcA called for area artists to share with the public some of the art work they had created during this year when the popular Open Studio tour was put on hold because of the COVID pandemic." In the show special tribute will be given to water colorist Sara Parker, one of ten artists who organized the first Open Studio Tour in Acadiana in 1971.
Hours and Admissions
Daytime Hours: Public gallery hours  are 10am-5pm Monday to Saturday.
Evening Hours: This exhibition is on view during evenings of select AcA events.
Field Trips and Group Tours: AcA accommodates groups and field trips, offering private tours and interactive art making activities to compliment the experience. Contact us for more information and pricing.