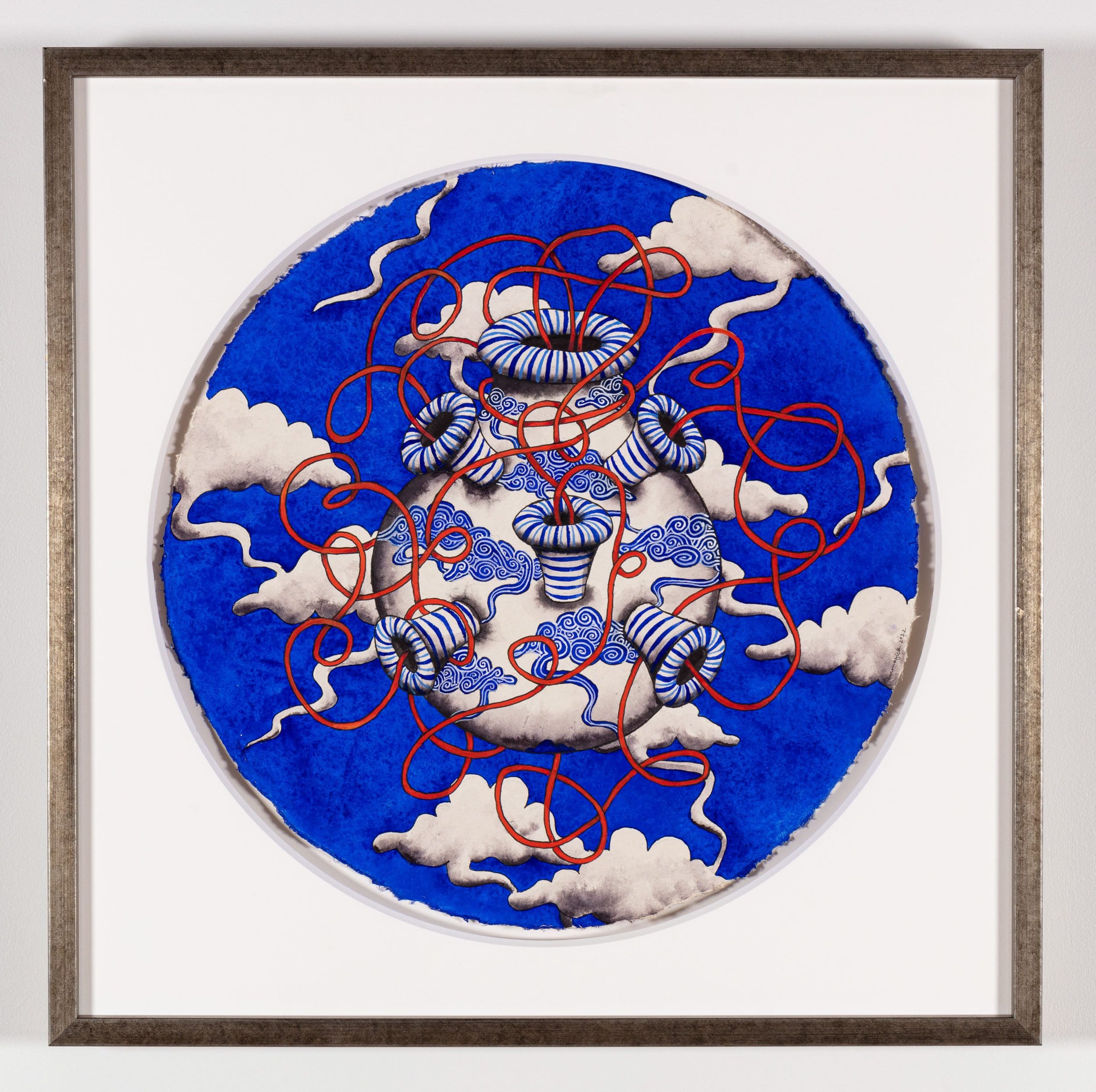 Emma Fick: A D R I F T
Emma Fick writes about her work:
"Clouds appeared in my work for the first time in 2020 with the onset of Covid-19 lockdown measures. As we entered a period of "floating time" — days without punctuation, weeks bleeding into one another — I wasn't much interested in committing concrete objects to the page. I felt untethered, unmoored, foggy and suspended midair. In my relationships with others, too, I felt cloud-like: the way we couldn't touch, the feeling of being see-through or somehow not physically solid. And so: I began painting clouds as a symbol of ephemera, of ungraspable time, of see-through people. The red thread—red to represent permanence, thread a symbol of resourcefulness and connection– seeks to bind and to connect us with others in the midst of all our floating.
Though I am drawn to clouds for their transience and transparency—they can't be tethered or harnessed or touched– visually I wanted to find a way to say that with clear, firm lines. No cottony, barely-there wisps of clouds for me. As I painted the first studies for the Adrift series, I settled on a stylized version of clouds inspired by Persian illuminated manuscripts, which allowed me to present foggy wisps in firm lines."
A statement from the artist:
"My work is situated at the boundary between word and image: paintings evoke stories, symbols can be interpreted like texts. My sketchbooks are filled with words—a single word that strikes me, a short phrase that resonates like a mantra—and images often grow from those. Vessel; oviform; alkonost; mandorla: naming something gives it shape.
This symbiosis between word and image is a result of my academic background in literature. When I began painting, I brought a literary way of looking at the world: reading, connecting, synthesizing, finding connections, parsing meaning, identifying patterns, refining theses. Images—not words—are now my primary tools of expression, but when I paint I begin, as I do when I write, with primary sources. I research Byzantine iconography, ancient Egyptian hieroglyphs, old Russian folklore illustrations, amulet chests in Thailand, stone reliefs telling an epic tale around the Angkor Wat palace in Cambodia. I identify patterns—birds, eggs, almond-shapes—and slowly pull bits and pieces from across geographies and eras to create my own visual language, a composite of many cultural vocabularies. I layer fragments of art history, plucked from their domain—the Egyptian cartouche, the elongated Byzantine face, the round niches for amulets from Thailand—and combine them with personal stories, explorations of my identity, and elements from the Louisiana landscape where I grew up. The result is a personal visual language, fragments of myself embedded in the intertwined narratives of art history."