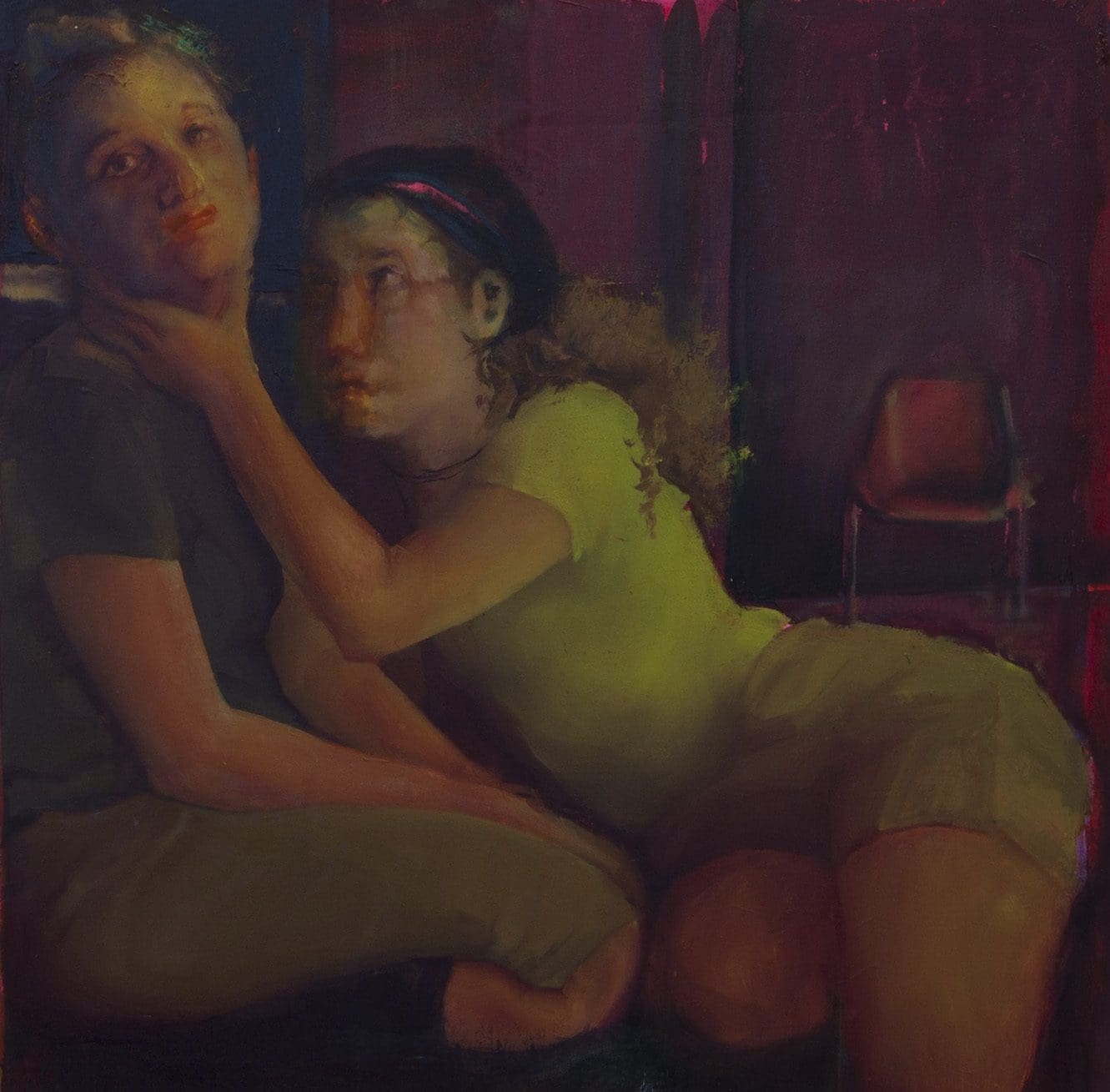 Hagit Barkai: Access
A solo exhibition of new work by contemporary artist Hagit Barkai.
This exhibition if free and open to the public.
In addition to regular weekly public gallery hours (10am-5pm Monday to Saturday), this exhibition is on view prior to AcA performances and during evenings of Second Saturday ArtWalk on January 11 and February 8.
About the Exhibition
In the series "Access" artist Hagit Barkai paints figures that explore movements of the body that are of negotiating wants, needs, desires and longing. She uses these paintings of performative situations to comment on a "landscape of conflict" by embedding within depictions of the landscapes seen from the embattled areas of the West Bank in Palestine.
"My imagery often focuses on subtle awkwardness of the body when it is failing to perform as a body with a clear identity or purpose. I center on how bodies and spaces fail to settle in any image or concept that confine and regulate them and how visible discomforts can function as resistance to cultural, political and personal narratives." — Hagit Barkai, 2020
About the Artist
Hagit Barkai is a visual artist that works primarily in painting. Her process also includes drawing, prints, and photo-performances that trace psychological and emotional choices in public and private settings.
Barkai received her MFA from Penn State University, PA in 2008, her B.A. in Philosophy from the Hebrew University of Jerusalem, Israel in 2004, and studied at the Jerusalem Studio School in Jerusalem, Israel. Her work has been shown nationally and internationally in venues such as Praxis Gallery in New York, NY; Scope in Miami Basel, Kunsthalle Faust, Hannover, Germany; Manifesta, Hasselt Belgium, Chashama Gallery in New York, NY; Crane Gallery in Philadelphia, PA; Fe Gallery in Pittsburgh, PA; Froelick Gallery, Portland OR; Greenshill Gallery in Greensboro NC, the Pennsylvania State Museum in Harrisburg, PA; Nau-Haus Gallery, Houston, TX; and Art League of Houston, Houston TX. Hagit is represented by Dan Mitchell Allison Gallery in Houston TX. Her work has been reviewed in Happening CLT Carolina Art Crush; Creative Loafing Charlotte, NC; Arts art news in Charlotte NC, Houston Chronicle in Houston, TX; Pittsburgh City Paper in Pittsburgh, PA ; Research Penn State in State College PA, and Absolutely In The Loop Magazine in Houston TX.