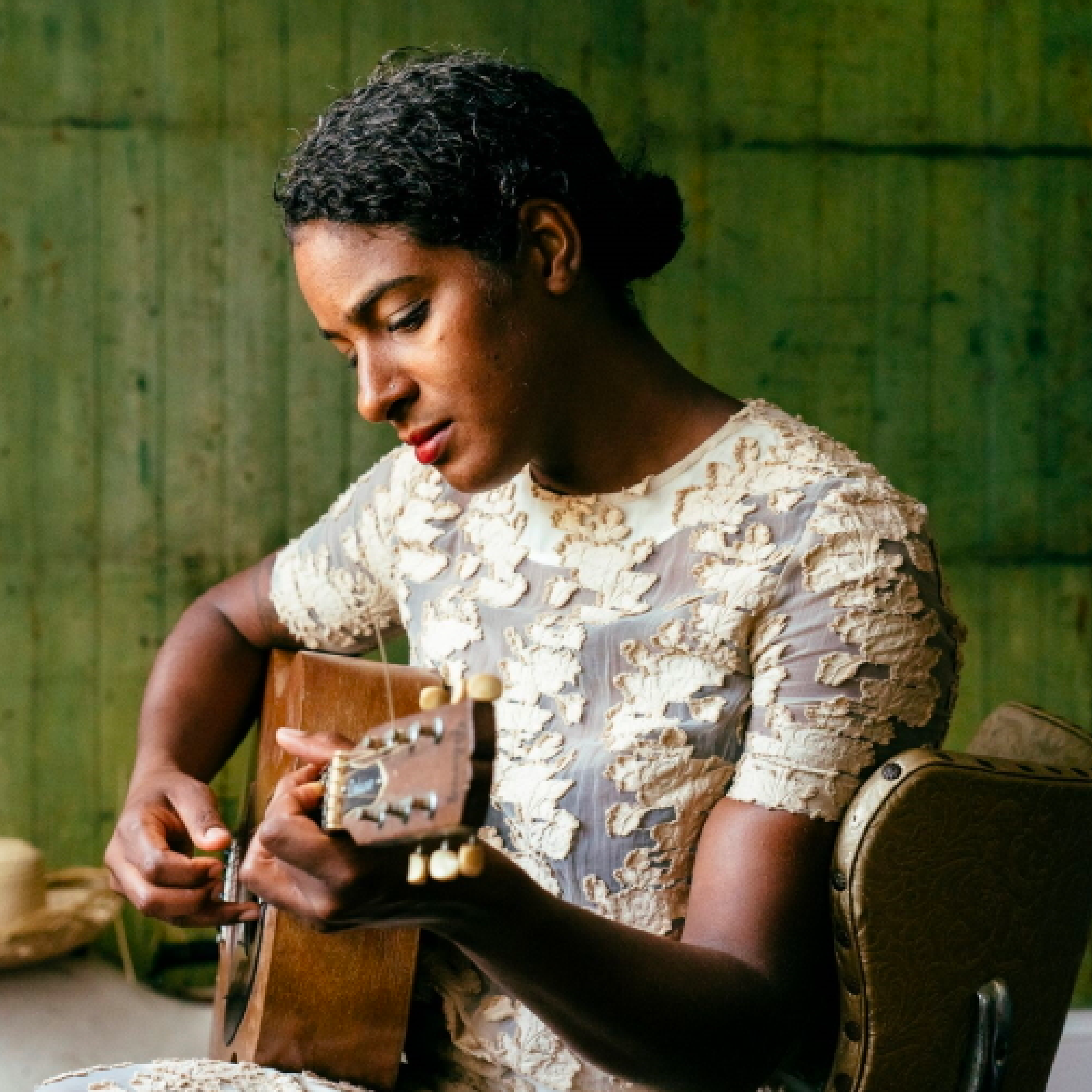 Leyla McCalla


There are more questions than answers on Leyla McCalla's remarkable new album, Breaking The Thermometer. What does democracy look like? Who does it work for? How long can it last? On its surface, the record explores the legacy of Radio Haiti—Haiti's first radio station to report the news in Haitian Kreyòl, the voice of the people—as well as the journalists who risked and lost their lives to broadcast it for nearly 50 years. But on a more fundamental level, the collection is a deeply personal reckoning with memory and identity, with the roles of artists and activists and immigrants in modern society, with the very notion of storytelling itself. In delving into the project, McCalla found herself forced to grapple with her own experiences as a Haitian-American woman, unraveling layers of marginalization and generations of repression and resolve as she searched for a clearer vision of herself and her purpose. The result is at once a work of radical performance art, historical scholarship, and personal memoir, a wide-ranging and powerful meditation on family and democracy and free expression that couldn't have arrived at a more timely moment.
"The more I researched this project, the more I found myself examining my own sense of Haitian-ness," McCalla reflects. "I spent a lot of time recalling my experiences visiting Haiti as a child, thinking deeply about the moments in my life when I felt very Haitian and the moments when I didn't. In the end, the music and the stories here all brought me to a more nuanced understanding of both the country and myself."
Born out of a multi-disciplinary theater project commissioned by Duke University, which acquired the complete Radio Haiti archives in 2016, Breaking The Thermometer combines original compositions and traditional Haitian tunes with historical broadcasts and contemporary interviews to forge an immersive sonic journey through a half century of racial, social, and political unrest. The music is captivating, fueled by rich, sophisticated melodic work and intoxicating Afro-Caribbean rhythms, and the juxtaposition of voices—English and Kreyòl, personal and political, anecdotal and journalistic—is similarly entrancing, raising the dead as it shines a light on the enduring spirit of the Haitian people. McCalla isn't just some detached observer here, though; she writes with great insight and introspection, examining her own journey of growth and self-discovery as she uncovers the Radio Haiti story and the inextricable ties that bind us all to it.
"Haiti's always seen as this far away place," she says, "but we're far more connected as Americans than we realize. Haiti was the first independent Black nation in the western hemisphere. Its very existence was and remains a threat to colonial power. At the same time, though, it symbolizes a lot about injustice and oppression around the world. When we talk about 'Black Lives Matter,' Haiti is a huge part of that."
Born in New York City to a pair of Haitian emigrants and activists, McCalla developed an early fascination with the country and its culture thanks in part to the time she spent visiting her grandmother there as a child. After moving to Ghana for two years and later graduating from NYU, McCalla eventually drifted south to New Orleans, where she planned to make a living playing cello on the streets of the French Quarter.
"At the time, I didn't realize how deep the Haitian roots of New Orleans ran," she explains, "but I very quickly found myself diving into all the cultural and historical connections. And then once I picked up the tenor banjo, I started researching Haitian folks songs, as well, and I was amazed to discover this incredibly rich banjo tradition, which led me to travel back to Haiti again in 2013."
By that point, McCalla had already risen to fame as a member of the GRAMMY Award-winning Carolina Chocolate Drops, a group she'd spent two years touring and recording with before leaving to pursue her own career, and her dedication to illuminating the Black roots of American culture was only growing stronger. In 2014, she generated considerable buzz with her critically acclaimed solo debut, Vari-Colored Songs: A Tribute to Langston Hughes, which prompted the New York Times to rave that "her voice is disarmingly natural, and her settings are elegantly succinct." Two more similarly celebrated releases followed, 2016's A Day For The Hunter, A Day For The Prey, and 2019's Capitalist Blues, which yielded even more glowing reviews and profiles, as did her 2019 debut with Our Native Daughters, a collaborative project featuring Rhiannon Giddens, Amythyst Kiah, and Allison Russell. It was in between this slew of releases and international tour dates that McCalla was first approached by Duke University about exploring the Radio Haiti archives.
"At the time, I honestly didn't know all that much about Radio Haiti," she recalls. "I knew that the owner, Jean Dominique, had been assassinated and that his widow, Michèle Montas, had kept the station going after his death, but beyond that, I really wasn't aware of the full history there."
So McCalla began making research trips to Duke, poring through countless hours of broadcasts with the help of archivists and experts. What she discovered was the remarkable story of a radio station that had stood up to oppressive government regimes and political censorship in order to broadcast news, commentary, and investigative journalism at a time when doing so came with deadly consequences. There were interviews with political prisoners and massacre survivors, op-eds from activists and journalists, and full albums of traditional Haitian folk tunes she'd never heard in their entirety before. On top of all her historical research, McCalla began conducting additional contemporary interviews, as well, speaking directly with Montas and even calling her own mother as she tried to come to some greater understanding of her role as an artist in sharing a fuller picture of Haiti with an outside world that so often only engages with it through the lens of whatever natural or humanitarian disaster happens to make international news.
"I remember confessing to Michèle that I wasn't really sure I should be the one to tell this story," says McCalla. "I was born in America, after all, and I'm an artist not an academic. But Michèle said, "Why wouldn't you be the one to tell this story? There are so many Haitian-Americans just like you who are still attached to the country in some way, who are still looking for their roots. This is exactly what you need to be doing.'"
With Montas' blessing, McCalla began work on the theater piece, which incorporated live musical performances alongside dance, video, and archival recordings. Onstage, McCalla alternated between cello and banjo with just a percussionist for accompaniment, and while the stripped down nature suited the production, she longed to hear fuller arrangements with her band and soon set about recording what would become the album with producer/engineer Kevin Ratterman (Preservation Hall Jazz Band, My Morning Jacket) in Los Angeles.
"The album functions almost like a fleshed out soundtrack for the theater work," explains McCalla. "The sound design and some of the archival pieces are different, but a lot of what you hear is drawn straight from it and my experiences creating it."
Album opener "Nan Fon Bwa" sets the stage, so to speak, with the sound of waves lapping the shoreline as songbirds chirp and roosters crow. The track presents a lush, bucolic vision of Haiti's natural beauty as McCalla (plucking her cello and backed by Haitian percussionist Jeff Pierre) begins performing a driving, muscular adaptation of a folk tune she first heard performed by the guitarist Amos Coulange on a Radio Haiti broadcast. Soon, a new layer is introduced as we hear a recording of McCalla exploring her childhood memories of Haiti with her mother, who reminds her, "When you went to Haiti for that summer…you came back saying you were Haitian. And before that, maybe you didn't see yourself as any nationality. But certainly when you came back from that trip you started identifying more as being Haitian."
"I had a lot of reservations about including my own voice on this project, to say nothing of starting off the first track with my mother," says McCalla. "But I needed to talk to her in order to understand if the memories I had were accurate, which became a kind of funny exercise because I was talking to someone whose own memories may also have been incomplete or altered by time. Ultimately, I decided to start there, though, because this album isn't just about Radio Haiti. It's my story, too."
The mix of musical performance and spoken word recordings also establishes a template for much of what's to come on the album. The mesmerizing "Fort Dimanche," for instance, uses both original songwriting and archival audio to tell of the infamous Fort Dimanche political prison used by the Duvalier regime to interrogate, torture, and execute suspected dissidents; the meditative "Ekzile" underpins Montas' recollections of being forced to flee her home country with brooding layers of cello and percussion; and the urgent "Dodinin," which arrives after a poem of refugee desperation written and read by another assassinated journalist, Richard Brisson, gives voice to the pain and frustration of the working poor.
"I actually learned that song years ago from an old Smithsonian Folkways record," says McCalla, "and my understanding is that the band who performed it, the Artistes Independant, were all Haitian musicians who were living in exile in New York. It's a song of revolution, of the poor rising up against the ruling class, and it just felt so emblematic of Haitian social dynamics from colonial times straight through to today."
Though the album is certainly full of righteous anger, there's plenty of bittersweet beauty to be found, too. The languid "Vini We" mixes the sounds of daily life on the island with a tender recounting of the love affair between Dominique and Montas, while the intoxicating "You Don't Know Me" reimagines a Tropicália tune written by the exiled Brazilian musician/activist Caetano Veloso as a meditation on McCalla's Haitian roots, and the dreamy "Memory Song" reaches back through generations of ancestral trauma for a better understanding of how the past shapes our present.
"How much does a memory weigh?" McCalla asks over a circular, droning guitar line. "What's the price our bodies will pay?"
There's no real answer, of course, here or anywhere on the album, and that's by design. The legacy of Radio Haiti is still being written, both by the survivors and the dead, and the tenuous state of democracy in America suggests that the future isn't as certain as we'd like to think, either. In the end, McCalla didn't write Breaking The Thermometer to answer our questions; she wrote it to question our answers.