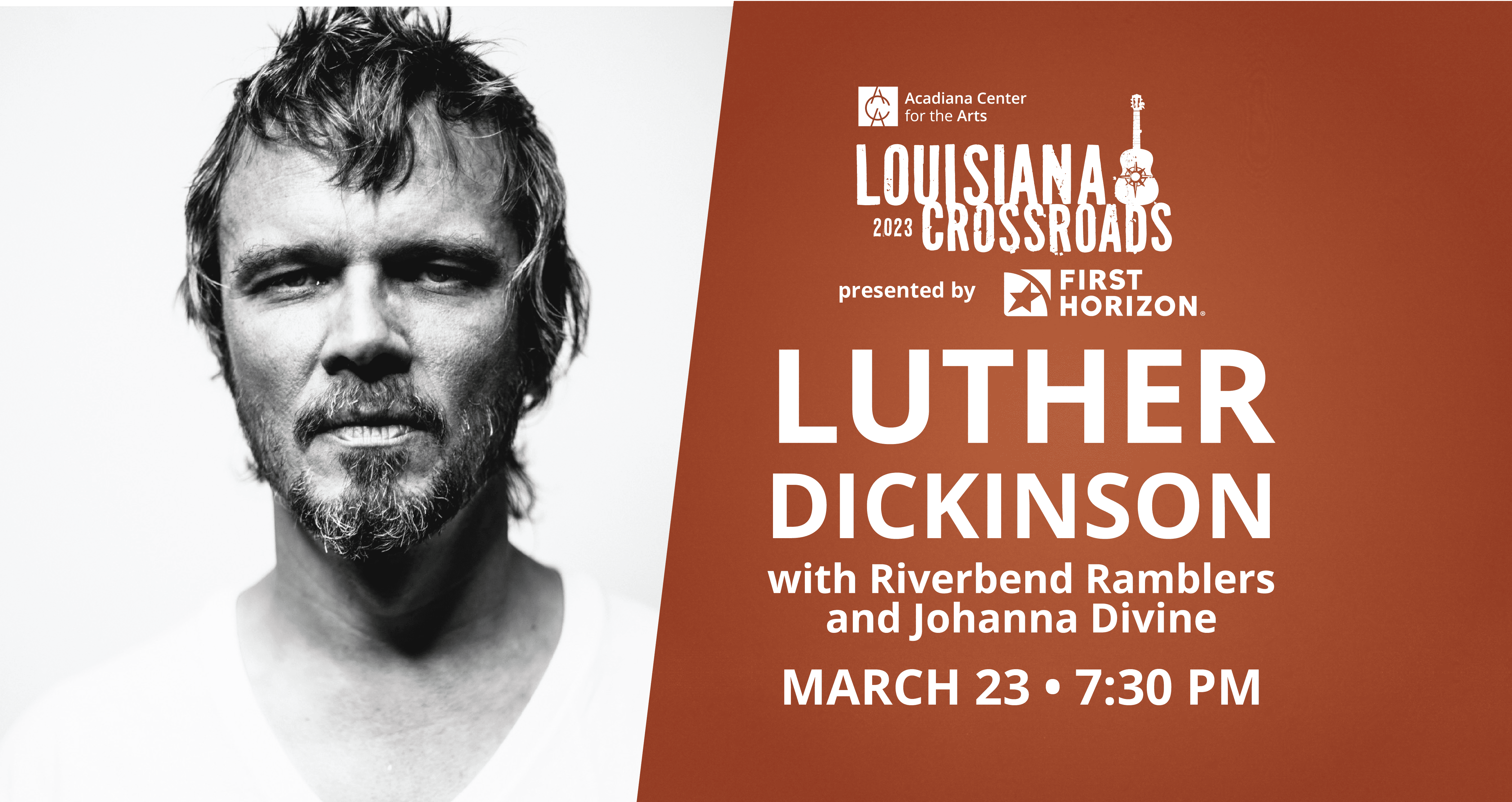 Luther Dickinson with Riverbend Ramblers and Johanna Divine

Freedom is Luther Dickinson's sonic signature, on stage and in the studio. He grew up Mississippi and  learned the power of artistic adventure firsthand from his father, Jim Dickinson, who produced albums for Big Star and The Replacements and recorded with everyone from Bob Dylan and Aretha Franklin to Ronnie Hawkins and the Rolling Stones.
Luther followed in his father's footsteps, earning a reputation as a fearsome session guitarist before breaking out internationally as a songwriter and performer with North Mississippi Allstars, launched with his brother Cody in the late 90's. They've earned multiple GRAMMY nominations, starting with 'Shake Hands With Shorty,' and most recently with 'Up and Rolling,' nominated for a 2021 Grammy Award for Best Contemporary Blues Album.
Favorites at Bonnaroo, Jazz Fest and Newport Folk, the band is hailed by Rolling Stone for their "boogie blues and fuzzed-out funk," while the NY Times praises Luther Dickinson as "an impressive player in the Southern guitar-hero mold."
Luther's restlessness and versatility fueled his solo career, landing him stints with John Hiatt and The Black Crowes in addition to studio work with Patty Griffin, Devon Allman, Seasick Steve and more.
Frequent collaborations with New Orleans artists, including Terence Higgins, Kirk Joseph, Jake Eckert, Eric Heigle and many others continue his family tradition of making roots music with remarkable variety and distinctive style.
Riverbend Ramblers + Johanna Divine
Formed in 2018 as a duo, Riverbend Ramblers' Eric Heigle (guitar, drums) and Andre Michot (accordion, vocals) pare cajun dancehall music down to its rhythmic foundations and build up from there. They solidified their sound as part of the Take Me to the River tour, playing alongside Dirty Dozen Brass Band, George Porter, Ivan and Ian Neville, 79ers, Monk Boudreaux and more.
Neighbors in New Orleans' Riverbend neighborhood, Eric and Andre were joined in 2019 by Bryan Webre and Johanna Divine, playing in and around Uptown/Carrollton. A collaboration with Luther Dickinson that same year became a regular gig with performances around the city.
As members of Lost Bayou Ramblers, Andre, Eric and Bryan won a GRAMMY for their 2017 "Kalenda" release. They've toured with Arcade Fire, Violent Femmes and members of the Pogues and are collaborating with the Louisiana Philharmonic Orchestra in 2023.
Eric Heigle is a renowned producer, mixer, composer and musician in New Orleans. He's worked with Big Freedia, Dr. John, Fats Domino, Stevie Nicks, The Who, Arcade Fire and many more, with recent performances on Saturday Night Live and The Tonight Show with Jimmy Fallon.
An accordion builder and musician, Andre Michot began playing music as a kid, sitting in with his father's band, Les Freres Michot, the late Ray Abshire and veteran blues musicians at Tabby's Blues Box in Baton Rouge. He co-founded Lost Bayou Ramblers in 1999 with his brother Louis.
Originally from Lafayette, and now based in New Orleans, Bryan Webre is a sought-after studio musician and multi-instrumentalist. He frequently records with producer Mark Bingham and plays and tours with Shakespeare and the Blues, Michot's Melody Makers, Soul Creole and Poguetry in Motion.
Seasoned songwriter and vocalist Johanna Divine has shared the stage with Joan Baez, David Egan and many Louisiana greats. She co-wrote the musical Dream of the Marionettes and lends her tunes and talents to round out the Riverbend Rambler's sound.